FCC Presentation Describes Quality Problems with RJ45 Plugs and Jacks
Presentation made to the FCC in July 2012 describes common quality problems associated with RJ45 Plugs and Jacks. The problems are only getting worse.....and with higher speeds (40GBASE-T) coming, increased voltages per the new PoE specification and the proliferation of Non-Compliant products from off-shore manufacturers, BUYER BEWARE.
Click on Picture below to go to IEEE or ACTA Web Sites for Presentation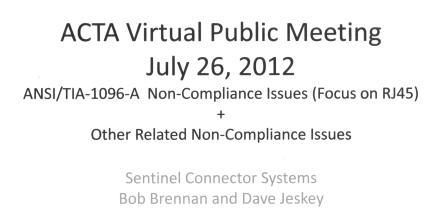 www.ieee802.org/3/4PPOE/email/pdfIwL_9XCu6N.pdf
http://part68.org/documents/meetingrec/12-Meetings/ACTA-12-018_Plugs_and_Jacks_Compliance_Issues_Presentation.pdf
Key topics include materials, gold and nickel plating issues, dimensional problems contributing to "contact lift-off" and the potential for Thermal Runaway.