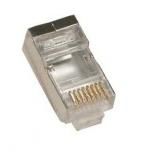 Category 6a and 6 RJ45 Plug for 28AWG STRANDED Conductors Only With DUAL PATENTED Conductive NEXT Reduction System
Click in Box for PayPal Drop Down Menu
1-99 – $1.05
100-999 – $0.93
1000 – $0.37
Can't Use PayPal?….email order

Description
111-08080056-34 Product Features
* Utilizes a 4 over 4 contact design (4 LONG and 4 SHORT) that provides increased isolation and spatial dispersion within the plug to minimize crosstalk. Accepts .039″ to .043″ MAXIMUM INSULATED CONDUCTOR OD.
* The conductors are isolated by the Conductor Load Bar and through Plastic Isolation/Insulation Barriers where contact termination is made, thereby improving electrical performance.
* Plug accepts both SOLID or STRANDED conductors.
* Made in USA.
111-08080056-34 Specifications
Performance: Meets or Exceeds ANSI/TIA 568.2-D – ANSI/TIA 1096 (Formerly FCC Part 68) – ANSI/TIA 968-A – CENELEC EN 50173 – IEC 60603 – ISO-8877 – ISO/IEC 11801
Contact Material: Phosphor Bronze – .012″ thick
Contact Plating: Minimum 50 Micro-Inch Pure Gold – Selective 24 Carat Hard Gold Plate in contact area over 100 Micro-Inch minimum Nickel Plate. Exceeds TIA-1096 specifications (formerly FCC Part 68)
Plug Material: Polycarbonate
Plug Tolerances and Dimensions: Meets TIA-1096 specifications (formerly FCC Part 68)
UL Recognized: UL File #E188111 – UL 1863 (1000v)
Flame Autoextinguish: 94V-0
Operating Temperature: -40º C to +85º C
Insertion/Extraction Life: 1000 Minimum Cycles
Contact Resistance: 10 Milli-Ohms maximum
Current/Voltage: 30 VAC/57 VDC at 1.5 Amps
Compliance: RoHS Compliant
PoE: Meets requirements of 15W PoE (IEEE 802.3af), 30W PoE+ (IEEE 802.3at), 60W PoE++ (IEEE 802.3bt Type 3) and 100W PoE++ (IEEE 802.3bt Type 4)
COMPLEMENTARY PRODUCTS TO "DO THE JOB RIGHT"


900005/900216



TERMINATION TOOL

Professional Grade
Controlled Ratchet Style
Insures Proper Blade Setting Depth
1,000,000 Cycles Minimum


DO NOT TAKE THIS STEP FOR GRANTED

Cable assemblies built using inadequate or poor quality tools and dies….. worn out tooling….. or mismatched tooling, WILL HAVE A MAJOR IMPACT ON THE PERFORMANCE OF THE CABLE ASSEMBLY.

111S08080056-34 Termination Instructions





SNAGLESS STRAIN RELIEF BOOT OPTIONS

CLEAR PLASTIC SLIM-LINE SNAGLESS BOOT

Boot "Locks" into Plug – 360º Honeycomb Design Provides Bend Radius Strain Relief – Clear Plastic eliminates color "mismatch" between cable and boot.

Accepts up to 6.7MM Jacket OD (.264″)

OTHER BOOT OPTIONS – BASED ON JACKET OD's




3M™ EPS-300




3M™ HEAT SHRINK TUBING

1/2 Inch Diameter
Adhesive-Lined, 3:1, Flexible, Polyolefin
"Lock" Everything in Place
Sold in 1 1/2 Inch Lengths
Additional information
| | |
| --- | --- |
| Options | 1-99, 100-999, 1000 |
The RJ-45 Is A Highly Engineered Interconnection System
CAVEAT EMPTOR.....Let The Buyer Beware
SUB-STANDARD, NON-COMPLIANT and COUNTERFEIT RJ45's coming in from the Far East
KNOW THE STANDARDS - KNOW THE SPECS - INSIST ON COMPLIANCE - KNOW YOUR SUPPLIERS